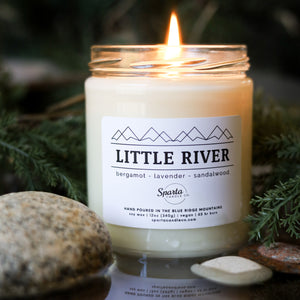 bergamot - lavender - sandalwood
This uplifting yet rustic fragrance offers a unique balance between masculine and feminine energies that will delight your senses. With floral top notes and creamy, rich undertones, you'll find yourself sitting on the riverbed watching your cares drift right on by with this candle by your side.
Also available in soap, body creme, and room spray.
Soy wax
Certified clean fragrance
Cruelty-free

Kosher, Vegan, Non-GMO

Cotton wick

Hand-poured in Sparta, North Carolina

Packaged in and with fully recyclable materials
Candle care recommendations:
Let your candle burn until the melt pool reaches the edges of the glass to ensure it burns evenly.
To extend candle life, trim your wick to 1/4" each time you burn.

Safety suggestions:
Only burn candles on a level, heat-resistant surface.

Do not burn candles with less than 1/4" of wax remaining.

Never leave burning candles unattended.

Keep away from children and pets.
Little River Soap Rocks!
Other than the amazing smell, you can't beat how beautiful this bar remains from beginning to end!
My Favorite Candle
This is the smell for me this autumn. Love the sandalwood and sweetness.
Smells amazing and so cute!
I love this so much! I'm a repeat buyer of this scent from the soap and will continue to do so :)
Review of little river candle 🕯
Little River candle has an amazing scent and I can tell a lot of time has been put into perfect it. The only improvement I think could be made would be a nicer candle container for displaying, but this is only a small thing and will not stop me from buying your products.
Love this candle!
I have nothing but praise for the team over at Sparta Candle Co. I bought the Little River in addition to some soap, and this may be my favorite candle I've ever purchased. The scent is really lovely and distinct without being overwhelming. I'll absolutely be ordering it again once this one runs out and trying other scents as well!