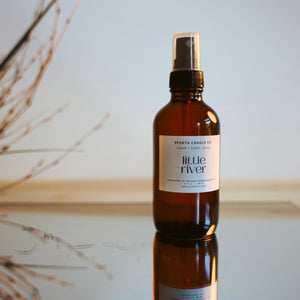 Great for freshening rooms and fabrics. 
Thoughtfully packaged in a 4 fl. oz. reusable glass bottle.
Ingredients: Water, surfactant, isopropyl alcohol, dipropylene glycol, fragrance.
Great for the car!
I ordered the New River scent. Sprayed a few times in the car and it lasted for several days! A little goes a long way but much better scent than an air freshener made for cars. Seems like the bottle will last a long time too
The perfect room spray
I bought the hippie dippy spray and am beyond happy with it. One spray at night over my bed and I fall asleep happily enjoying the citrusy scent. It's very relaxing and makes going to bed that much better. I can't recommend this enough.
Luna Room and Linen Spray
Love the smell! The product itself is amazing. The only thing is I wish it came out as more of a mist when sprayed.