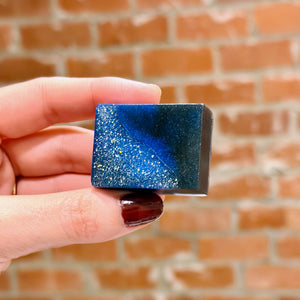 rain clouds - sea salt - jasmine
Sample sized soap to try new scents or share your favorites.
0.56 oz. (16g)
Ingredients: Coconut Oil, Palm Oil, Safflower Oil, Glycerin, Aloe Vera Gel, Water, Fragrance, Sodium Hydroxide, Sorbitol, Propylene Glycol, Sorbitan Oleate, Oat Protein, Titanium Dioxide, Mica.

Mini Soaps Make Great Party Favors!
The mini soaps were a hit at a baby shower I organized. I ordered a few different scents and everyone loved them!
First purchase of many
This line is soft on skin and all smell amazing! One thing that i love about any soap from Sparta…. U can use and use no matter how small the bar and it still looks good on display in bath or kitchen ❤️ follow these guys on tt !! Such fun
💙💙💙
This soap has an amazing scent and is so pretty!!
I love all the soaps I received in my order! The extra sample is amazing too, I already ordered more since I received this order because I liked them so much!