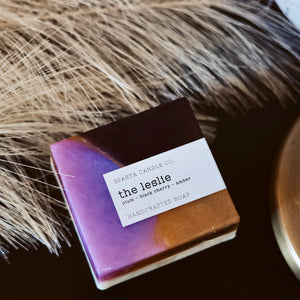 plum - black cherry - amber
These 4.5 oz. bars fit perfectly in your hand. Hand crafted in our shop.

Ingredients: Coconut Oil, Palm Oil, Safflower Oil, Glycerin, Aloe Vera Gel, Goat Milk, Water, Fragrance, Sodium Hydroxide, Sorbitol, Propylene Glycol, Sorbitan Oleate, Oat Protein, Titanium Dioxide, Mica
Highly underrated soap
Seriously this is one of my favorite Sparta soaps. A sweet, fruity scent that is similar to Electric Love, so if you're looking for that type of scent I highly recommend this bar.
Seemed like fate!
I found your shop on TikTok and instantly fell in love with you guys. I had to go buy some soap immediately! I'm scrolling through the soap and there pops up - The Leslie. My heart swelled up. My husband lost his mother 17 years ago when he was just 17. Her birthday is this weekend, June 17, and her name was Leslie. I ordered it for him to honor her memory and I can't wait for it to arrive! Thank you! 🩵
Wonderful scent & it came in just a couple days!
This was the perfect Mother's Day gift for my mom. Her name is Leslie. :) It smelled so good and came in the mail surprisingly fast. Sparta Candle Co. will always be a fav of mine. <3
Great soap and candle scent
I bought the candle first when that was on sale and then got the soap immediately afterwards. Really lovely scent and I use in both in the shower and in the guest bathroom near the sink
Wonderful
I have yet to find a bar of soap I haven't loved it! This one has a really great fresh fruit smell with a bit of earthiness. Both my husband and myself enjoy this bar. Currently it is our travel soap as we just went on a trip and used it the whole time!