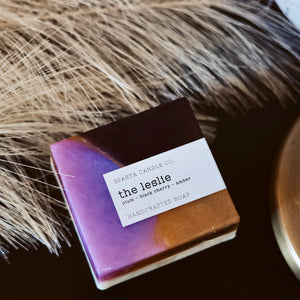 plum - black cherry - amber
These 4.5 oz. bars fit perfectly in your hand. Hand crafted in our shop.

Ingredients: Coconut Oil, Palm Oil, Safflower Oil, Glycerin, Aloe Vera Gel, Goat Milk, Water, Fragrance, Sodium Hydroxide, Sorbitol, Propylene Glycol, Sorbitan Oleate, Oat Protein, Titanium Dioxide, Mica
This one is okay it's not my favorite
Smells like freshly washed & styled hair using only the finest ingredients.
SO good
I received a sample of this soap with my order and I'm glad I did. It smells so fantastic and now I'll absolutely be buying a full bar with my next order!
Highly underrated soap
Seriously this is one of my favorite Sparta soaps. A sweet, fruity scent that is similar to Electric Love, so if you're looking for that type of scent I highly recommend this bar.