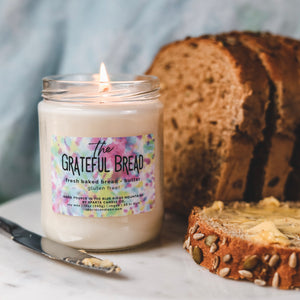 fresh baked bread - butter
Smells just like hot bread right out of the oven, loaded with creamy butter. Adds a wonderful warmth to your home!
Smells like a bakery!
This is probably one of the best candles I've ever burned. Bought this for my hubby who likes to bake bread. When you walk from the upstairs to the downstairs, you get the most delightful smell of fresh baked bread. It's spot on and not overbearing. Love love love this candle
Smells Like Buttered Bread!
Very nice to light in the kitchen! Definitely a fun candle to showoff
Grateful Bread
Loved this candle so much I bought 2 more as gifts
Favorite Candle I've Ever Had
It's amazing. The smell quickly fills my room and lasts a long time. It's a cozy warm smell and it's identical to the bread I've made in the past. I've had it lit next to my bed almost 24/7 since I got it. Shipping was fast and the packaging was great. It makes me so happy to get such an amazing candle and it's even better that I get to support such an amazing small business. I plan on ordering more in the future
Smells Yummy!
Love the smell of baking bread 😋