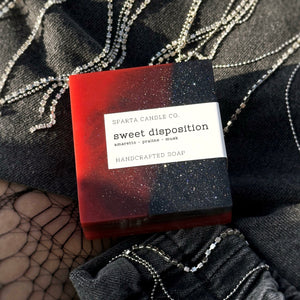 amaretto - praline - musk
4.5 oz.  |  plant-based
Ingredients: Coconut Oil, Palm Oil, Safflower Oil, Glycerin, Aloe Vera Gel, Water, Fragrance, Sodium Hydroxide, Sorbitol, Propylene Glycol, Sorbitan Oleate, Oat Protein, Titanium Dioxide, Mica
Disclaimer: This collection is entirely fan inspired. We have no affiliation with Taylor Swift and claim no ownership of her incredible work.
I had to re buy this one because it was my first order ever from them and I loved it so much I definitely needed a new one!
Cutest swiftie soaps, they smell and look so good! my girlfriend loves them.
Love the soaps from Sparta. They all smell great last forever and are a work of art.
Really pleasant and nice
this smells so good that I'm like excited to go shower now...so christmassy and so sweet and rich and it goes on so creamy, highly recommend
Beautiful and High-Quality
Bought this soap as a Christmas gift along with the afterglow, reputation, and folklore soaps and they're all so beautiful and smell amazing! A lovely gift for my cousins who all went to the eras tour with me this year <3 Will definitely place an order again in the future for myself!