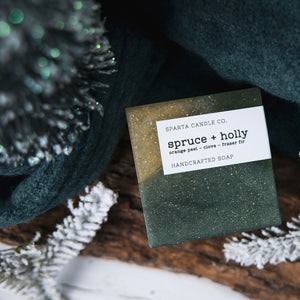 orange peel - clove - fraser fir
This bright scent will fill your bathroom with festive notes of citrus, holiday spices, and the essence of the evergreens.
4.5 oz.
Ingredients: Coconut Oil, Palm Oil, Safflower Oil, Glycerin, Aloe Vera Gel, Water, Fragrance, Sodium Hydroxide, Sorbitol, Propylene Glycol, Sorbitan Oleate, Oat Protein, Titanium Dioxide, Flax Seeds, Mica.
Christmas(tm)!
The title says it all - smells just like Christmas with the woodsy and spiciness. Definitely great all year round though!
This soap smells so good! Obsessed with it
Looks so real
This soap inclusion look so real! I love the pine scent so much. Very forest-y!! If you love that Christmas time pine scent I would highly recommend
BEAUTIFUL!
every soap is a work of art! i got the spruce & holly for my botanical-loving mother and it definitely delivered- it smells just like a christmas tree and the little spruce sprig decoration is just amazing. i love everything put out by this company and this soap is no exception!