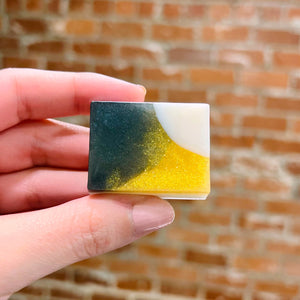 camphor - palo santo - dark musk
Sample sized soap to try new scents or share your favorites.
0.56 oz. (16g)
Ingredients: Coconut Oil, Palm Oil, Safflower Oil, Glycerin, Aloe Vera Gel, Goat Milk, Water, Fragrance, Sodium Hydroxide, Sorbitol, Propylene Glycol, Sorbitan Oleate, Oat Protein, Titanium Dioxide, Mica.

I <3 Sparta
I know this is a review for a specific soap..but I loved all of the mini soaps I purchased. There was a mini "golden hour" that was sold out and Bob kindly reached out to me and let me know. The customer service was excellent and the quality of soap is excellent! Thank you!