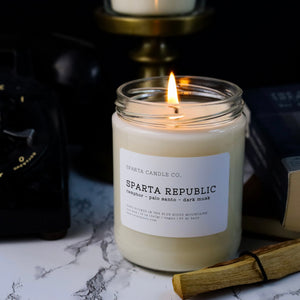 camphor - palo santo - dark musk

People who visit Sparta often leave in awe of our people. Kind, warm, and proud. Proud of the mountains that raised us, the fresh air that nurtured us, the woods that humbled us, and the community that taught us to love.
We are truly our own kind of people, and this candle pays homage to our own little world among the hills.
If you love woodsy, dark, mysterious, sensual scents - this one is for you!
Also available in soap.
Smells amazing!
Love this scent! The candle is fabulous with a long burn time. The soap is wonderful. And the linen spray has a long lasting scent. I would love to have this in a beard oil for my husband.
Candle
It had no smell....was very disappointed especially since they are 28.00
Absolute Favorite!
We can't get enough of this scent! We have both the candles and the soap. A beautiful bar, it also looks great in the dish for guests!
Sparta Republic Candle and soap
Both the candle and soap labeled as Sparta Republic smell fantastic to me! I'll be honest, the soap is a bit strong—I am NOT complaining, just letting people know that if you're looking for something on the stronger side, this is it ;) I love manly cologne smells and "strapping-hot-guy manly" is how this one registers in my brain.
Love Sparta's products, the company, the packaging, the timeliness of their mail-order fulfillment, the cute notes they put in the packaging, the fun I have wetting the biodegradable packaging peanuts and watching them disappear — Love it all!