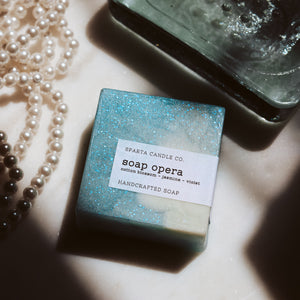 cotton blossom - jasmine - violet
These 4.5 oz. bars fit perfectly in your hand. Hand crafted in our shop.

Ingredients: Coconut Oil, Palm Oil, Safflower Oil, Glycerin, Aloe Vera Gel, Goat Milk, Water, Fragrance, Sodium Hydroxide, Sorbitol, Propylene Glycol, Sorbitan Oleate, Oat Protein, Titanium Dioxide, Mica
Soap Opera soap
Smells lovely. Lasts a long time.
As always the website and checkout process is a breeze.
Best Soaps Ever
My wife and I absolutely love Sparta products. Their soaps smell amazing, feel great, and last a long time!
Already repurchased more
Amazing! Smells so fresh and lathers like none other
Amazing! My new favorite!
I love it all! Everything smells amazing and it gets me nice and clean. The soap bag makes an awesome addition for suds and exfoliating! Thank you so much!