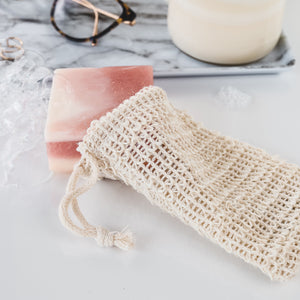 Made from flax, these natural soap bags will make your bar soap suds up in a flash and also help with exfoliation. The drawstring makes it possible to hang your soap to dry to extend its life and keep it off your bathtub.
Soap bag
Overall I do really like the soap bag but I do wish there was another option that wasn't so exfoliating to the skin
amazing
I like to buy soap and never have a way to use them when they get to super small bars so to find a soap bag that was so cheap and also good quality was amazing thank you.
The best thing since sliced bread!
This product is simple, but makes so much sense! This is great for simple friction, something I struggle with due to lack of body hair. This soap bag makes a lather that I had previously only dreamed of. I love that I can just hang it in my shower and only use what I need, thus extending the life of these beautiful soaps. The only downside is the soap is covered all the time so I don't get to actually see it. And boy are your soaps a sight for sore eyes! My solution was just to buy an extra bar to keep on display!