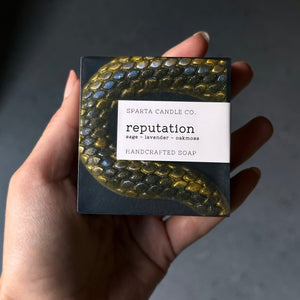 sage - lavender - oakmoss
Each soap is unique; you may receive a different portion of snake design, but it will look similar!
4.5 oz.
Ingredients: Coconut Oil, Palm Oil, Safflower Oil, Glycerin, Aloe Vera Gel, Water, Fragrance, Sodium Hydroxide, Sorbitol, Propylene Glycol, Sorbitan Oleate, Oat Protein, Titanium Dioxide, Mica
Disclaimer: This collection is entirely fan inspired. We have no affiliation with Taylor Swift and claim no ownership of her incredible work.
Please make these into a wax melt
Gorgeous. So many of these amazing scents and aesthetics should come in wax melt form.
LOOKS SO REAL!!
I bought this soap as a part of the Eras Soap collection and OMG it looks so real. I love the earthy smell and the pretty gold shimmer looks so cute! Would defo recommend
These are so great!
These not only look fantastic but the smell is amazing. I will continue to buy from here.
WOW
So cool! I ordered these for my friends and for myself - we're obsessed! Perfect gift for any Swiftie.
Amazing product
Absolutely stunning! Smells so good.