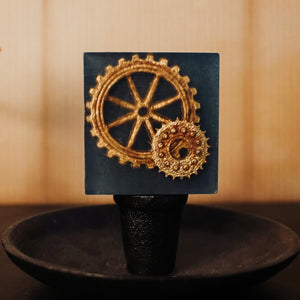 vanilla - oak - tobacco leaf
Rich tobacco leaf, sturdy oak, and a hint of sweet vanilla, all bound together with a steampunk vibe. This scent embraces the essence of Sparta's storied past while paying tribute to our once thriving pipe factory.
4.5 oz.  |  plant-based

Ingredients: Coconut Oil, Palm Oil, Safflower Oil, Glycerin, Aloe Vera Gel, Water, Fragrance, Sodium Hydroxide, Sorbitol, Propylene Glycol, Sorbitan Oleate, Oat Protein, Titanium Dioxide, Mica
Loved the First Time; Liked the Second
When I first purchased this scent over the summer I fell in love with it. However this time around, the scent doesn't seem as strong. Still definitely recommend.
Gorgeous look and smell
This is one of my favorites and it's so pretty I almost don't want to use it, but I will, because the quality of the soap and the smell are simply divine. So happy I stumbled across this shop on TikTok!
Received a sample size of this in a previous order and my husband loved it! He is getting one for Christmas now!
Perfection
Love the soaps wish I could buy more at one time.
Sent from the soap gods!
I don't even know where to begin! This soap leaves me feeling so clean and lathers so well. The scent though, the scent has my entire bathroom smelling amazing. The combination of these notes are beyond measure!