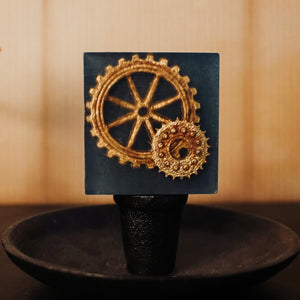 vanilla - oak - tobacco leaf
Rich tobacco leaf, sturdy oak, and a hint of sweet vanilla, all bound together with a steampunk vibe. This scent embraces the essence of Sparta's storied past while paying tribute to our once thriving pipe factory.
4.5 oz.  |  plant-based

Ingredients: Coconut Oil, Palm Oil, Safflower Oil, Glycerin, Aloe Vera Gel, Water, Fragrance, Sodium Hydroxide, Sorbitol, Propylene Glycol, Sorbitan Oleate, Oat Protein, Titanium Dioxide, Mica
Perfection
Love the soaps wish I could buy more at one time.
Sent from the soap gods!
I don't even know where to begin! This soap leaves me feeling so clean and lathers so well. The scent though, the scent has my entire bathroom smelling amazing. The combination of these notes are beyond measure!
Beautiful AND Incredible!
OMG I wasn't sure what to expect from this scent, but it is INCREDIBLE! If you have an aversion to smoky scents like I do, don't let the tobacco note discourage you from ordering. It's incredible and so unique. I wish I could describe it better but you'll just have to try it yourself and see. You won't be disappointed!