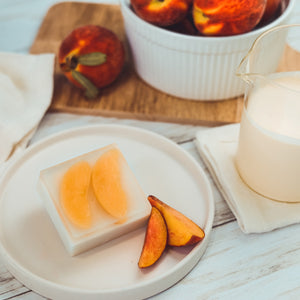 peach - apricot - vanilla
These 4.5 oz. bars fit perfectly in your hand. Hand crafted in our shop.

Ingredients: Coconut Oil, Palm Oil, Safflower Oil, Glycerin, Aloe Vera Gel, Goat Milk, Water, Fragrance, Sodium Hydroxide, Sorbitol, Propylene Glycol, Sorbitan Oleate, Oat Protein, Titanium Dioxide, Mica
This is my absolute favorite soap so far! The smell of peaches are as pure as the inspiration for this creation. I love the soap. I love the care you put into crafting each one of your soaps. Your wife Sue is smiling from heaven!
Absolutely perfect
It looks so beautiful, smells like fresh peaches, came packaged so nice, I will order again!
They were smaller than what I expected, but beautiful.
Unreal products. Love them!!
Fantastic product. Very unique soaps. Will use again.