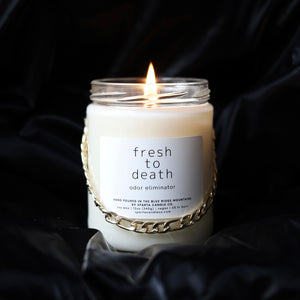 The freshest candle to eliminate unpleasant odors in your space.  With notes of ozone, citrus, and light green florals, this candle will leave your room smelling like clean laundry instead of whatever ails ya' nostrils. 
Product info: A 100% soy wax candle hand-poured in Sparta, North Carolina. Featuring natural ingredients and a pure cotton wick.
65 hour approximate burn time

Cruelty-free

Kosher, Vegan, Non-GMO

Cotton wick

Hand-poured in Sparta, North Carolina

Packaged in and with fully recyclable materials
Candle care recommendations:
Let your candle burn until the melt pool reaches the edges of the glass to ensure it burns evenly.
To extend candle life, trim your wick to 1/4" each time you burn.

Safety suggestions:
Only burn candles on a level, heat-resistant surface.

Do not burn candles with less than 1/4" of wax remaining.

Never leave burning candles unattended.

Keep away from children and pets.
Awesome candle!
I got this to put in my hallway since I keep my cats litter box in the laundry room in the next room and this candle works wonders for the litter smell!
Love this and the wicks stand up straight
Fresh To Death-Odor eliminating candle ❤️❤️❤️
Love it!
Fresh and clean scent. This candle says what it does and does what it says. It kills bathroom, kitchen, onion, and musty odors.
Also, the candle has good throw. Another fabulous selling point, there is no chemical "after smell" like some other candle company candles emit. My eyes don't burn or water, I also don't endlessly sneeze if I leave the Fresh To Death candle burning more than two hours.
As I love clean scents, Fresh To Death is my new favorite candle 😍
Amazing as usual
I love this company so much that I ventured out and ordered something new. Well, I wasn't disappointed, it smells amazing without and overwhelming scent. I usually use it when I'm frying up some bacon, and it does it's job well. Honestly I used to buy from bath and body works, SPARTA candle company has my business now.
Clean smell & definitely eliminates odors!
In our home, we have two kittens (who share a litter box) and two adult males who have physical jobs. This new odor eliminator works as advertised! Plus, I love that it's all natural. Will be buying this candle again.