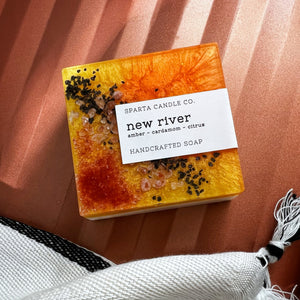 amber - cardamom - citrus
Featuring a unique blend of Himalayan Pink Salt, Black Lava Salt, and Hawaiian Red Salt, which gently exfoliates and revitalizes the skin for a beautiful glow.
Our handcrafted soaps are a luxurious treat for your skin. Perfect for any skin type, it leaves the skin feeling clean, soft, and hydrated. Can be used as both hand and body soap.
4.5 oz.
Ingredients: Coconut Oil, Palm Oil, Safflower Oil, Glycerin, Aloe Vera Gel, Goat Milk, Water, Fragrance, Sodium Hydroxide, Sorbitol, Propylene Glycol, Sorbitan Oleate, Oat Protein, Titanium Dioxide, Black Lava Salt, Himalayan Pink Salt, Hawaiian Red Salt, Mica.
New river soap
Bought this soap for my boyfriend along with other ones but this one is his favorite.
Not only does it smell so good it's beautiful too !
Leaves skin so soft and bathroom smelling wonderful .
Phenomenal!
I got this soap as a gift for my girlfriend n wow she loves it I do too it smells soo good! N it looks beautiful the packaging is also really fancy looking great presentation awesome packaging n very good quality soap overall a phenomenal 5 STARS id give more if I could definitely gonna shop some more!
So Fresh and So Clean
New River soap has turned me into a groupie with its gorgeous texture and warm, clean scent. I got it for my husband, but I find myself using it often for a refreshing change. I love the seeds and crystals in the top layers. Great quality soap!
Love it!
Love this hand soap, smells so good and the scent lasts a very long time. The salts are a gentle exfoliant. The scent is very masculine but I still love it. Very gentle on the skin.