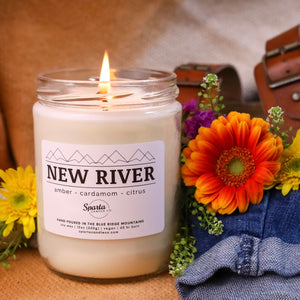 amber - cardamom - citrus
This unique combination is a tribute to the New River and its invigorating presence in our lives. Enjoy this refreshing scent and allow yourself to be transported to a place of renewal and growth.
Soy wax
Certified clean fragrance
Cruelty-free

Kosher, Vegan, Non-GMO

Cotton wick

Hand-poured in Sparta, North Carolina

Packaged in and with fully recyclable materials
Candle care recommendations:
Let your candle burn until the melt pool reaches the edges of the glass to ensure it burns evenly.
To extend candle life, trim your wick to 1/4" each time you burn.

Safety suggestions:
Only burn candles on a level, heat-resistant surface.

Do not burn candles with less than 1/4" of wax remaining.

Never leave burning candles unattended.

Keep away from children and pets.
Wonderful but not too overpowering smell! I've already had the two I ordered taken by friends because they loved them so I have to order another one!
Sweet and just strong enough
Somehow this candle smells both calming and bright at the same time. Great for curling up with a cup of coffee or a good book.
Fast shipping!!
I ordered a gift on Wednesday to be sent to a friend out of town. They called me on Friday and had not o let received it, but loved everything in it!
So fragrant!
The scent fills up a room within a few minutes of being lit but at the same time isn't overpowering. Burn time is great. Smells invigorating and comforting. If you love earthy amber and bright citrus, this candle is for you!
Great candles. I love how they are not over powering with the scents. Highly recommend.