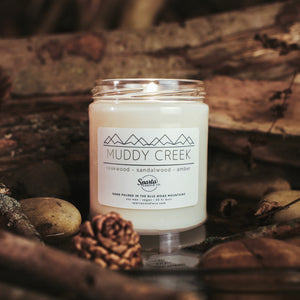 teakwood - sandalwood - amber
Named after our favorite café here in Sparta. With its first light, Muddy Creek invites you in with the deep, woody essence of teakwood, reminiscent of the café's rustic wooden tables and beams, aged by time and countless shared moments. This robust note harmoniously marries with the soft, creamy embrace of sandalwood, painting a picture of that comfortable table beside the window, where you can watch the world transition into autumn's embrace.
Product info: A 100% soy wax candle hand-poured in Sparta, North Carolina. Featuring natural ingredients and a pure cotton wick.
Approximate burn time: 65 hours (12 oz.) | 30 hours (5.5 oz.)
Cruelty-free

Kosher, Vegan, Non-GMO

Cotton wick

Hand-poured in Sparta, North Carolina

Packaged in and with fully recyclable materials
Candle care recommendations:
Let your candle burn until the melt pool reaches the edges of the glass to ensure it burns evenly.
To extend candle life, trim your wick to 1/4" each time you burn.

Safety suggestions:
Only burn candles on a level, heat-resistant surface.

Do not burn candles with less than 1/4" of wax remaining.

Never leave burning candles unattended.

Keep away from children and pets.
Muddy Creek!
Don't be fooled. Nobody makes a candle that smells like a muddy creek.
This is a great scent. One of my faves. It encouraged me to try more of their choices. Which I loved as well. I have burned and made candles since I was 15.
They are VERY good at what they make. Don't hesitate.
Scent doesn't have a huge throw, but it is lovely and burns well. Packaging is pretty and came shipped very padded and secure. Will definitely buy from Sparta Candle Co. again!
Don't let the name fool you!
This one is my favorite so far! A comfy woodsy smell. Perfect for snuggling with my dogs and reading a book!
Love it.
As with all of Sparta Candle Company's products, I love all of them.