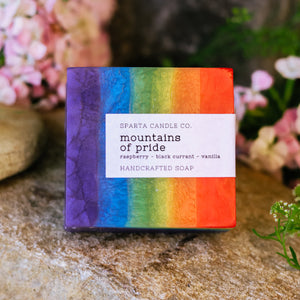 raspberry - black currant - vanilla
This soap honors our LGBTQ+ community, and all young people who have the courage to truly be themselves and love what makes them unique. We proudly stand with you, and want this collection to serve as a reminder that our mountains are full of pride.
20% of sales from this collection will be used to fund our Mountains of Pride scholarship, which celebrates LGBTQ+ youth at Alleghany High School.
4.5 oz.
 Ingredients: Coconut Oil, Palm Oil, Safflower Oil, Glycerin, Aloe Vera Gel, Goat Milk, Water, Fragrance, Sodium Hydroxide, Sorbitol, Propylene Glycol, Sorbitan Oleate, Oat Protein, Titanium Dioxide, Mica
Mountains of pride
I know I keep saying how good all of the soaps are, but this one is my absolute favorite. I wish I had a little bit of glitter in it, but the smell makes up for it. It is the best smelling soap I have ever had, and it smells my whole bathroom when I take a shower, even when I'm not showering my mom will walk in and ask me why my bathroom smells so good and it's because of this soap! I ordered it in a candle and I would order it in more if they had more available. It is so good definitely try it!!
I have some of the soaps that I'm not using yet in the closet and every time I walk past I can smell them. It is wonderful. ❤️
Incredible
Highly recommend best soap shop in sparta
Mountain of Pride Bar
The scent is out of this world! Soooo good! I had reviewed previously that the Little River soap bar was smaller than I had originally thought, but I still have plenty of that one left! If you don't waste it they last.. super happy.
Love love love it
This one smells so good! It's such a yummy scent and the colors of the soap are so pretty. 10/10 recommend!