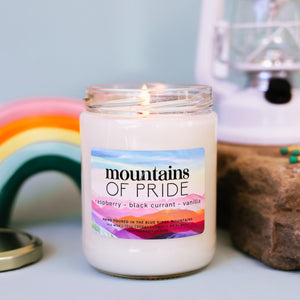 raspberry - black currant - vanilla
This candle honors our LGBTQ+ community, and all young people who have the courage to truly be themselves and love what makes them unique. We proudly stand with you, and want this collection to serve as a reminder that our mountains are full of pride.
20% of sales from this collection will be used to fund our Mountains of Pride scholarship, which celebrates LGBTQ+ youth at Alleghany High School.
amazing!!
smells so good and i love how my package was hand packed. you guys are so lovely💖
MY NEW FAVORITE CANDLE
The whole house smells fresh and bright, and the candle design itself makes me smile everytime I walk past. I'll be buying more soon!
I love this scent
This scent smells like a warm hug. Sweet but complex. I've really enjoyed how much this smell fills my home. :)
Smells Amazing!
The smell is absolutely amazing! makes me feel nostalgic
Love this new scent
So glad I got this. It smells amazing (of course) and I am happy that it gives back to my home community. Great steps to start to recognize LGBTQIA+ in Sparta.