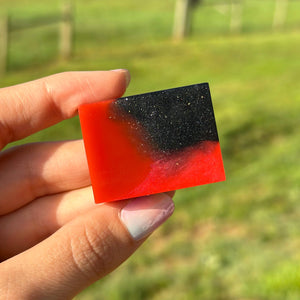 amaretto - praline - musk
0.56 oz. (16g)
Ingredients: Coconut Oil, Palm Oil, Safflower Oil, Glycerin, Aloe Vera Gel, Water, Fragrance, Sodium Hydroxide, Sorbitol, Propylene Glycol, Sorbitan Oleate, Oat Protein, Titanium Dioxide, Mica.

Disclaimer: This collection is entirely fan inspired. We have no affiliation with Taylor Swift and claim no ownership of her incredible work.
Smells Amazing!
Smells great, and it's so pretty. Loved it
Smells amazing!
One of the best smelling soaps I've ever purchased. Neat color combo.
Arrived quickly and they look amazing. Can't wait to stuff this in their stocking
It smells All Too Well
Lathering up with Sweet Disposition is akin to stepping into a lyrical memory, each scent note invoking a poignant line from Taylor Swift's magnum opus, "All Too Well (10 Minute Version) (Taylor's Version) (From The Vault)."
The amaretto aroma is reminiscent of "the air was cold" as you "walked through the door," a blend of excitement and nostalgia, harking back to moments when "it felt like home somehow." The praline offers an evocative embrace, like those "autumn leaves falling down like pieces into place," comforting, yet with an undertone of melancholy.
Then, there's the musk – poignant and arresting. It brings forth the depth of emotions, encapsulating the moment he "dropped her hand." With every use, one can't help but wonder, "what was she supposed to do with that?"
While memories serve as poignant reminders, Mr. 'Donnie Darko' serves as a lesson. For while he might bask in the glow of old keepsakes, it's clear who's been the luminary, outshining and outgrowing past entanglements with grace, strength, and towering success.
For every Swiftie and those who appreciate tales told through scent, Sweet Disposition isn't just soap; it's an aromatic chronicle. And while memories might hold onto us "all too well," with every rinse, there lies the chance to cleanse, renew, and pen our own story.