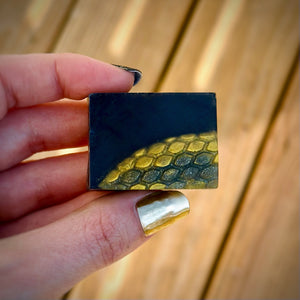 sage - lavender - oakmoss
0.56 oz. (16g)
Ingredients: Coconut Oil, Palm Oil, Safflower Oil, Glycerin, Aloe Vera Gel, Water, Fragrance, Sodium Hydroxide, Sorbitol, Propylene Glycol, Sorbitan Oleate, Oat Protein, Titanium Dioxide, Mica.

Disclaimer: This collection is entirely fan inspired. We have no affiliation with Taylor Swift and claim no ownership of her incredible work.
AMAZING
This soap was amazing and I think it smells amazing and the pattern is seriously so so cool. It's perfect!!!
Such a nice smelling soap with a beautiful graphic!
STUNNING
This is the most beautiful soap! Love this small business so much because they go above and beyond for their customers. Smells amazing