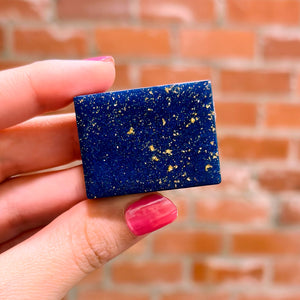 ginger - lime - cedar
0.56 oz. (16g)
Ingredients: Coconut Oil, Palm Oil, Safflower Oil, Glycerin, Aloe Vera Gel, Water, Fragrance, Sodium Hydroxide, Sorbitol, Propylene Glycol, Sorbitan Oleate, Oat Protein, Titanium Dioxide, Mica.

Midnight Mini Soap
Received the midnight mini soap as a sample to try with my order and I am so glad! I would not have tried it on my own and at first, I thought it was my least favorite of all that I bought, but after using it for a few days it has become a major favorite of mine. The soap quality is incredible, lather is the best even compared to some of the other soaps. The design is so beautiful especially when used. The smell grew on me so much, I use this one for my hands now so I can keep smelling it! The scent lingers well after use but I cannot really describe how it smells other than deep and intriguing. My dad also was impressed.
Love it
I gave it to my best friend and she loved it!
They all smell amazing!!
So excited to try out all 5 scents- they smell amazing!!
LOVE
AMAZING! Scent and the lather is sublime