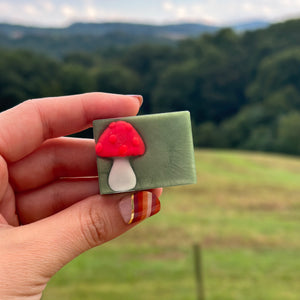 juniper - red currant - sage
0.56 oz. (16g)
Ingredients: Coconut Oil, Palm Oil, Safflower Oil, Glycerin, Aloe Vera Gel, Water, Fragrance, Sodium Hydroxide, Sorbitol, Propylene Glycol, Sorbitan Oleate, Oat Protein, Titanium Dioxide, Mica.

Disclaimer: This collection is entirely fan inspired. We have no affiliation with Taylor Swift and claim no ownership of her incredible work.
Great soaps!
I got 5 different kinds of mini soaps and they all are so pretty and smell great! My swiftie-obsessed nieces and sister will love them. It was also a nice surprise to get a sample of the "flower child" soap. Thank you!
P.S. your Instagram content is awesome. That's why I bought from this company!
These soaps are adorable! And they smell amazing.
Folklore and more
This soap is a perfect stocking stuffer and looking forward to the themed boxes I heard about today!!
Super cute gift
Adorable and smells great. Perfect stocking stuffer for a TS lover!
Beautiful
So pretty and a great way to try them first!