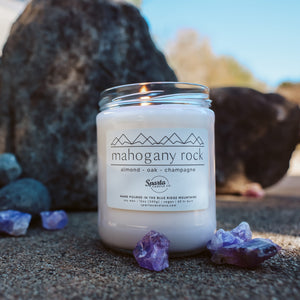 almond - oak - champagne
Named after a local mountain road, Mahogany Rock will wrap you up in a luxe combination of earthy forest and creamy shea for a soft, cozy, inviting scent experience.
Also available in soap, body creme, and room spray.
Soy wax
Certified clean fragrance
Cruelty-free

Kosher, Vegan, Non-GMO

Cotton wick

Hand-poured in Sparta, North Carolina

Packaged in and with fully recyclable materials
Candle care recommendations:
Let your candle burn until the melt pool reaches the edges of the glass to ensure it burns evenly.
To extend candle life, trim your wick to 1/4" each time you burn.

Safety suggestions:
Only burn candles on a level, heat-resistant surface.

Do not burn candles with less than 1/4" of wax remaining.

Never leave burning candles unattended.

Keep away from children and pets.
Easy transaction.
Buying the candle on line was was easy. They shipped it to my cousin in Georgia and kept me up on the shipment with emails. My cousin was delighted with the Mahogany Rock candle because her parents had a house on Mahogany Rock back in the day. The candle brought back many memories for her and me.
A nice candle
It had a smell I didn't expect but the candle was lovely! It might be a good gift for a man as the smell gives off that sort of smell a man would like, faint and not over powering.
Excellent
I really like it. The soap is nice but the candle is even better
Classy Vibes
This is the most subtle scent I've tried from Sparta Candle. It's sophisticated and great for all seasons.
A perfect candle for a calm day
Love the pleasant scent of this candle! It is mild but lovely smell. A good go to candle!