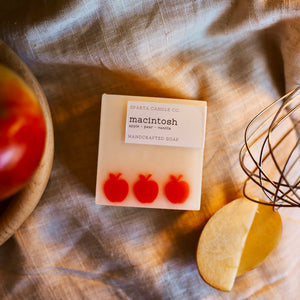 apple - pear - vanilla
Square 4.5 oz. bars made with naturally derived ingredients right here in our shop. Formerly known as Hawks Produce soap.
Ingredients: Coconut Oil, Palm Oil, Safflower Oil, Glycerin, Water, Fragrance, Sodium Hydroxide, Sorbitol, Propylene Glycol, Sorbitan Oleate, Oat Protein, Titanium Dioxide, Mica, Flax Seeds.
Delectible
This soap smells like a stroll through an apple orchard. I cannot get enough of it!
I love the Macintosh soap! It smells like fresh farmer's market apples!
So impressed!
When I open my mailbox the most amazing smell greeted me. Then I opened the package and it was beautifully packed, including a handwritten note. But I was not prepared for how gorgeous the soap would be. A true work of art! Thank you.
Crisp Apple!
Just as you'd suspect, it smells like apples! But it also has a very sweet note from the pear and vanilla smells. I love this smell for springtime as it just makes me happy!
Fresh apple fragrance!
Before even using the soap, just having it sit unwrapped in my bathroom made the whole room smell lovely! And after getting it wet, the smell got even stronger! It smells just like a fresh cut apple, makes me feel very refreshed. I'm an instant fan!