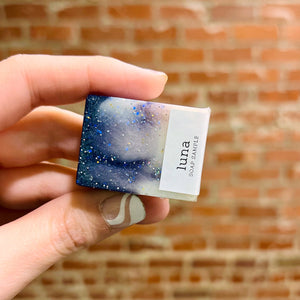 hydrangea - grapefruit - lavender
Sample sized soap to try new scents or share your favorites.
0.56 oz. (16g)
Ingredients: Coconut Oil, Palm Oil, Safflower Oil, Glycerin, Aloe Vera Gel, Goat Milk, Water, Fragrance, Sodium Hydroxide, Sorbitol, Propylene Glycol, Sorbitan Oleate, Oat Protein, Titanium Dioxide, Mica.

Fantastic!!
The smell lingers even after you've used the soap! I love all the care and thought out into the soap!! Can't wait for new things! :)
Truly one of a kind!
I originally found this local business on TikTok because of their adorable soap designs and I decided to purchase a few samples to have around the house. I have dry, sensitive, eczema-prone skin, and I've been using the most ugly soaps for such a long time and I am so happy that I found this business. These soaps are absolutely adorable, they smell amazing and they do not irritate my skin at all. My personal favorite is Luna. It smells like a dream and the design makes me smile every time I look at it I highly recommend these soaps for anyone that is interested they are hands-down, the best soaps I've found in a while.
Samplers
I got some samples so I could choose what kind of soap to purchase. Only problem is they are are so beautiful its hard to use them up and they all smelled so great I still can't choose! The tiny samples have lasted very long so I am sure a full sized bar will be worth it!