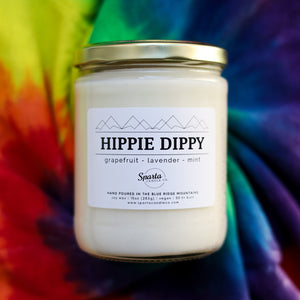 grapefruit - lavender - mint
Feel the love with this invigorating scent that combines the uplifting, energizing aroma of grapefruit with the calm, soothing aspects of lavender and mint. Hippie Dippy brings serenity, clarity and peace to any space.
Soy wax
Certified clean fragrance
Cruelty-free

Kosher, Vegan, Non-GMO

Cotton wick

Hand-poured in Sparta, North Carolina

Packaged in and with fully recyclable materials
Candle care recommendations:
Let your candle burn until the melt pool reaches the edges of the glass to ensure it burns evenly.
To extend candle life, trim your wick to 1/4" each time you burn.

Safety suggestions:
Only burn candles on a level, heat-resistant surface.

Do not burn candles with less than 1/4" of wax remaining.

Never leave burning candles unattended.

Keep away from children and pets.
Fabulous
Amazing scent!!! Sparta candles have never let me down.
Smells so good!!
It smells amazing! I can't wait to burn it!
Beautiful Scents!
I love my Hippie Dippy candle and room spray. The scent is soft and fresh instead of smelling like chemicals! I'm sensitive to fragrance and this doesn't give me a headache at all and makes my house smell fantastic. Will be ordering more and I highly recommend this product!
Sparta never fails
This is my third order from Sparta. Hippie dippy is awesome. But my favorite in my order is harvest moon / peppercorn, orange, apple. An amazing light candle.
a gorgeous fruity floral fresh scent, highly recommend
I bought several floral-based scents from Sparta and this is absolutely a winner for people who like lavender (I do). The addition of grapefruit and mint really freshen it up and strengthen it too. Fills a whole room and it lingers even when the candle isn't lit, which I love. We absolutely love Hippie Dippy and will buy it again.