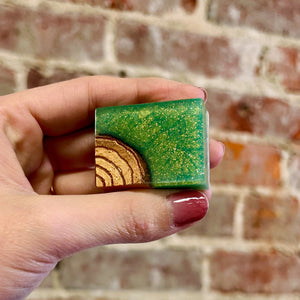 fraser fir - cedar - cardamom
Sample sized soap to try new scents or share your favorites.
0.56 oz. (16g)
Ingredients: Coconut Oil, Palm Oil, Safflower Oil, Glycerin, Aloe Vera Gel, Goat Milk, Water, Fragrance, Sodium Hydroxide, Sorbitol, Propylene Glycol, Sorbitan Oleate, Oat Protein, Titanium Dioxide, Mica.

Wow.
This was my favorite scent out of the ones I received. I will be coming back to buy a full size soap and candle. It's gender neutral yet masculine while refreshing. Design for the sample is so incredible for such a small scale. Love love love
Incredible design
I love the design on this soap and the sample is a perfect size.
These samples make great gifts!
I love High Country soap and candles! It's one of my favorite scents. At our church, we always acknowledge birthdays and anniversaries with a card, and I decided to put together a small care package for members who get sick or who are recovering from surgery. These soap samples are the star of my get well packages. A little something special to lift spirits.
I am continually amazed at everything Sparta Candle Co does from developing the scent combinations to the creative soap designs, the strong attention to detail to the recycling efforts in all their packaging, and most of all, the pure joy they share with this community and beyond.