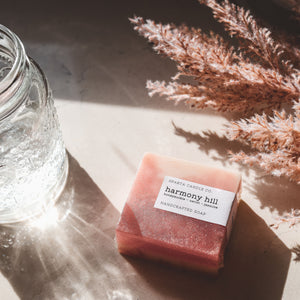 honeysuckle - neroli - jasmine
These 4.5 oz. bars fit perfectly in your hand. Hand crafted in our shop.

Ingredients: Coconut Oil, Palm Oil, Safflower Oil, Glycerin, Aloe Vera Gel, Goat Milk, Water, Fragrance, Sodium Hydroxide, Sorbitol, Propylene Glycol, Sorbitan Oleate, Oat Protein, Titanium Dioxide, Mica
I love this company
Amazing quality, service, and timeliness. These are my gifts for everyone for every holiday.
Glad it resurfaced!!!
Was so disappointed this soap was not in stock. Thank you for remaking it ❤️ 🧼
Love this soap!!!
Used this soap for the first time tonight and it smells AMAZING. I felt super clean and it gets super sudsy! The smell also lingers for a long time. So happy I purchased!