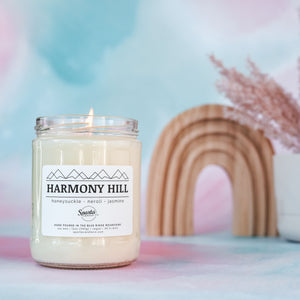 honeysuckle - neroli - jasmine
Named after Harmony Hill Bed & Breakfast, this candle will have you dreaming of sunshine and honeysuckles.
Also available in soap.
Love this scent, please bring it back❤️
I have purchased the Harmony Hill Soap and loved it! Went to purchase again and found out it was discontinued. Was able to get one of the candles that were still in stock. Please bring this scent back even if under a different name 🙏🏻
true honeysuckle scent, gorgeously rendered
Picked up Harmony Hill in the store and fell in absolute love with it. I do love honeysuckle, it's true, but I really REALLY love neroli. So the two together really blew my mind. A must for any fruity floral lovers!
I looooove it!!!
This is such a nice candle. It smells amazing and it's not overpowering
Great gifts
Items I purchased were for 2 individuals that absolutely love the soaps and candles.