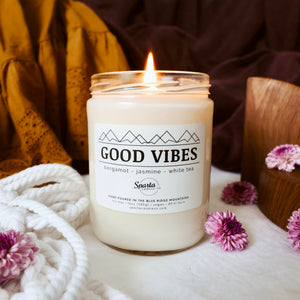 bergamot - jasmine - white tea
Increase the peace! Luxurious and soothing, this candle will definitely elevate your zen.
Soy wax
Certified clean fragrance
Cruelty-free

Kosher, Vegan, Non-GMO

Cotton wick

Hand-poured in Sparta, North Carolina

Packaged in and with fully recyclable materials
Candle care recommendations:
Let your candle burn until the melt pool reaches the edges of the glass to ensure it burns evenly.
To extend candle life, trim your wick to 1/4" each time you burn.

Safety suggestions:
Only burn candles on a level, heat-resistant surface.

Do not burn candles with less than 1/4" of wax remaining.

Never leave burning candles unattended.

Keep away from children and pets.
Candles and soap
Awesome products. The candles smell wonderful and the soap makes my skin so soft, don't even need lotion.
Amazing
Looks beautiful and smells amazing
Good Vibes Candle
I follow Mrs. Clark on TikTok. Shortly after she made the TikTok video displaying your kindness to her, I knew I had to support this company. I had never heard of Sparta Candle Co but it took me less than 3 minutes to jump online and order. And I was NOT disappointed! I love the Good Vibes scent and will definitely order again.
It's Allllllll Good
I love this scent! It smells clean but vibrant without being overpowering. Pretty much perfect for gifting on all occasions, cuz putting more Good Vibes into the world is great for everyone <3
Can't Harsh These Vibes
This is a true story of, Tiktok made me buy it. I was inspired and came on immediately to buy a few candles. I bought Flower Child, Hawks Produce and Good Vibes. Then I was immediately terrified and had buyer's remorse, thinking man, that was stupid, buying scented candles online. I was worried until they were delivered (which was actually really fast, considering I'm in Chicago) Once I opened them though, I HAD NO REASON TO WORRY!!! Somehow, this amazing company is getting EVERYTHING right. I could not have come up with more perfect scents. I literally love all 3. Love that they're soy and cruelty free, and the packaging...compostable paper AND packing peanuts that are made of corn??!! WHAT?! So I came on to leave this review on all 3 candles, just to spread the word, don't hesitate, get the candles. I'm going to get more now. :)