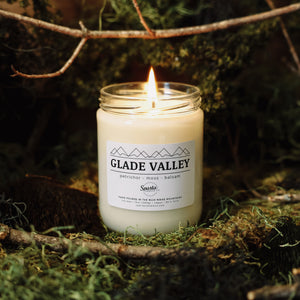 petrichor - moss - balsam
You know that familiar scent when it's just beginning to rain? This is it.
Product info: A 100% soy wax candle hand-poured in Sparta, North Carolina. Featuring natural ingredients and a pure cotton wick.
65 hour approximate burn time

Cruelty-free

Kosher, Vegan, Non-GMO

Cotton wick

Hand-poured in Sparta, North Carolina

Packaged in and with fully recyclable materials
Candle care recommendations:
Let your candle burn until the melt pool reaches the edges of the glass to ensure it burns evenly.
To extend candle life, trim your wick to 1/4" each time you burn.

Safety suggestions:
Only burn candles on a level, heat-resistant surface.

Do not burn candles with less than 1/4" of wax remaining.

Never leave burning candles unattended.

Keep away from children and pets.
Old Growth Forest
You know that smell of walking the Balsam Trail at the peak of Mt. Mitchell on a misty day? This is it.
Smells like Oregon
This candle makes the whole house smell amazing
Smells like home.
Love this candle smells like my home in Glade Valley! So I can be there when not there.
Incredible candle
This candle smells like a rainshower, but better!
Perfect!
I live in northwest Washington and it rains all the time and let me tell you this candle smells just like outside after a good rain! So so perfect❤️