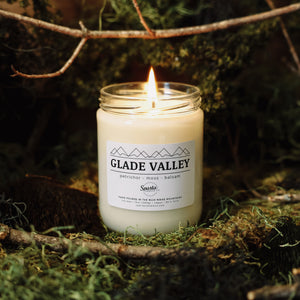 petrichor - moss - balsam
You know that familiar scent when it's just beginning to rain? This is it.
Product info: A 100% soy wax candle hand-poured in Sparta, North Carolina. Featuring natural ingredients and a pure cotton wick.
65 hour approximate burn time

Cruelty-free

Kosher, Vegan, Non-GMO

Cotton wick

Hand-poured in Sparta, North Carolina

Packaged in and with fully recyclable materials
Candle care recommendations:
Let your candle burn until the melt pool reaches the edges of the glass to ensure it burns evenly.
To extend candle life, trim your wick to 1/4" each time you burn.

Safety suggestions:
Only burn candles on a level, heat-resistant surface.

Do not burn candles with less than 1/4" of wax remaining.

Never leave burning candles unattended.

Keep away from children and pets.
Great Company!!
Saw your great videos on Tiktok and purchased soaps for me, candles for my sister and Taylor Swift Soaps for stocking stuffers for my nieces. All were impeccably made and smell great. I was presently surprised by the extra sample in the box! It was very apparent that the owners and workers take great pride in their company, the customers they service and the product they put out. Will be ordering again!
My Favorite Scent
I love this candle so much. It's so calming to me, it's like the rain with a hint of sweetness. I've bought three candles of it already!
Old Growth Forest
You know that smell of walking the Balsam Trail at the peak of Mt. Mitchell on a misty day? This is it.
Smells like Oregon
This candle makes the whole house smell amazing
Smells like home.
Love this candle smells like my home in Glade Valley! So I can be there when not there.