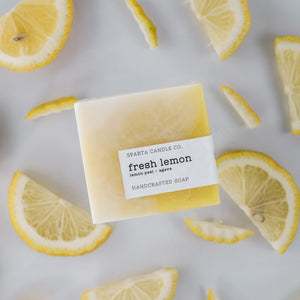 lemon peel - agave
These 4.5 oz. bars fit perfectly in your hand. Hand crafted in our shop.
Ingredients: Coconut Oil, Palm Oil, Safflower Oil, Glycerin, Aloe Vera Gel, Goat Milk, Water, Fragrance, Sodium Hydroxide, Sorbitol, Propylene Glycol, Sorbitan Oleate, Oat Protein, Titanium Dioxide, Mica
Very fresh, not overpowering. Perfect sized bar
Best Soap Ever!
Amazingly packaged, smells amazing & looks even better!!!
Lemon Soap
Looks and smells like fresh lemons!
Not a strong lemon smell
I was a little underwhelmed, it has a strong agave smell but I thought the lemon smell would be a lot stronger. I love this company overall, and the soap doesn't smell bad. It just isn't the strong lemon scent I was expecting. I still plan on using it though. It's good soap overall. I've loved the other soaps I've gotten from this company though.
Perfect for gifts
I bought these to give to members of our Birthday Club, and they are perfect. Fresh Lemon and two others smell wonderful. I'm sure I'll be ordering more!
I love that y'all are a Sparta, NC, business! Buying local and supporting small businesses make the purchase even better.