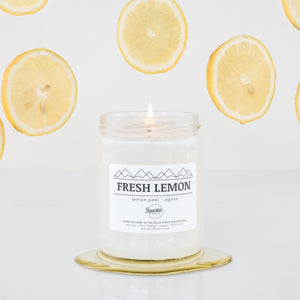 lemon peel - agave
Let the sunshine radiate through your space with this pure, clean citrus scent without even opening the windows. The joyful essence of lemon is beautifully rounded out by sweet notes of agave, offering a lift to your mood and home. Brighten up any room with this long-lasting, perky fragrance.
Also available in soap, body creme, and room spray.
Product info: A 100% soy wax candle hand-poured in Sparta, North Carolina. Featuring natural ingredients and a pure cotton wick.
65 hour approximate burn time

Cruelty-free

Kosher, Vegan, Non-GMO

Cotton wick

Hand-poured in Sparta, North Carolina

Packaged in and with fully recyclable materials
Candle care recommendations:
Let your candle burn until the melt pool reaches the edges of the glass to ensure it burns evenly.
To extend candle life, trim your wick to 1/4" each time you burn.

Safety suggestions:
Only burn candles on a level, heat-resistant surface.

Do not burn candles with less than 1/4" of wax remaining.

Never leave burning candles unattended.

Keep away from children and pets.
So fresh!
I love Lemon everything and so it's no surprise I love this candle. You won't be disappointed if you love lemons.
Favorite Scent
A beautiful fresh scent perfect for any time of year