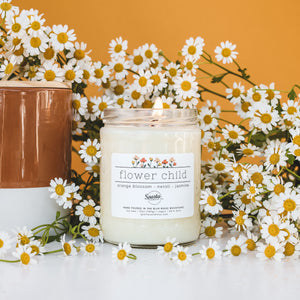 orange blossom - neroli - jasmine
Inspired by the optimism and creativity of the hippie movement, Flower Child fills your space with sweet, heady aromas and a hint of freedom. The bright floral notes of orange blossom blend with the delicate scent of neroli and jasmine, creating a euphoric and uplifting atmosphere that will bring a new energy to your home. Light this candle and drift away in a gentle breeze of floral bliss.
Also available in soap, body creme, and room spray.
Soy wax
Certified clean fragrance
Cruelty-free

Kosher, Vegan, Non-GMO

Cotton wick

Hand-poured in Sparta, North Carolina

Packaged in and with fully recyclable materials
Candle care recommendations:
Let your candle burn until the melt pool reaches the edges of the glass to ensure it burns evenly.
To extend candle life, trim your wick to 1/4" each time you burn.

Safety suggestions:
Only burn candles on a level, heat-resistant surface.

Do not burn candles with less than 1/4" of wax remaining.

Never leave burning candles unattended.

Keep away from children and pets.
Beautiful
I love this candle so much! It's the exact clean floral scent I was hoping for and it's strong enough to notice without being too much. I will definitely be repurchasing!
Flower Child is everything. I'm obsessed.
My son and I recently drove nearly 4 hours from Raleigh to visit Sparta Candle in person and I regret nothing. I went a little candle crazy but we love absolutely every scent and candle we bought ... however Flower Child may be my favorite of all. The orange blossom scent is strong, which I like, so I burn it almost constantly. Ever buy a candle and light it, then you can't smell anything? Not a problem with this one! I used up the 12 oz Flower Child candle I bought 2 weeks ago because I never wanted the scent to end. Did I mention I'm obsessed? lol.
Beautiful floral scent very refreshing
Dancing in the fields (or our living room)
This is a true story of, Tiktok made me buy it. I was inspired and came on immediately to buy a few candles. I bought Flower Child, Hawks Produce and Good Vibes. Then I was immediately terrified and had buyer's remorse, thinking man, that was stupid, buying scented candles online. I was worried until they were delivered (which was actually really fast, considering I'm in Chicago) Once I opened them though, I HAD NO REASON TO WORRY!!! Somehow, this amazing company is getting EVERYTHING right. I could not have come up with more perfect scents. I literally love all 3. Love that they're soy and cruelty free, and the packaging...compostable paper AND packing peanuts that are made of corn??!! WHAT?! So I came on to leave this review on all 3 candles, just to spread the word, don't hesitate, get the candles. I'm going to get more now. :)