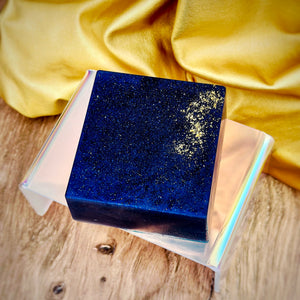 ginger - lime - cedar
4.5 oz.  |  plant-based

Ingredients: Coconut Oil, Palm Oil, Safflower Oil, Glycerin, Aloe Vera Gel, Water, Fragrance, Sodium Hydroxide, Sorbitol, Propylene Glycol, Sorbitan Oleate, Oat Protein, Titanium Dioxide, Mica
Disclaimer: This collection is entirely fan inspired. We have no affiliation with Taylor Swift and claim no ownership of her incredible work.
Amazing. Absolutely love this company. I've bought a million soaps from them and they're just perfect every time. Long lasting. Smell wonderful but not too overpowering. Lathers soooo much. Beautiful packaging and even a little sample! Just 20/10.
We love the candles
Not only do they look fantastic, but they also smell amazing! You deserve all the hype you get!
Greetings from germany!
AMAZING - But it's Midnights (plural) or midnight rain
You guys rock, forest of all. But, I was a lil bit disappointed when I saw it said "midnight" instead of "midnights" or "midnight rain" - please consider changing the name bc this is a great soap but I feel like I can't gift it to my swiftie friends with this name :) love you guys so much. Thank you
Love the soaps from Sparta. They all smell great last forever and are a work of art.
Artwork!
The entire TS collection is just stunning and smell amazing!