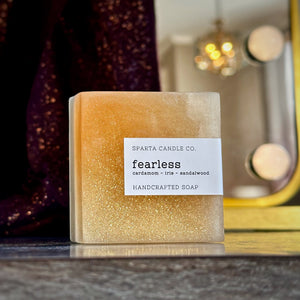 cardamom - iris - sandalwood
4.5 oz.
Ingredients: Coconut Oil, Palm Oil, Safflower Oil, Glycerin, Aloe Vera Gel, Goat Milk, Water, Fragrance, Sodium Hydroxide, Sorbitol, Propylene Glycol, Sorbitan Oleate, Oat Protein, Titanium Dioxide, Mica
Disclaimer: This collection is entirely fan inspired. We have no affiliation with Taylor Swift and claim no ownership of her incredible work.
Love this Business!!
Not only are the soaps beautiful but the customer service is amazing! They respond quickly and kindly. Will continue to purchase from them!!
Gorgeous and Lovely Soaps
I don't know how it can get better than this!!! I cannot say enough about how lovely these Swiftie soaps are! You have a customer for life! Absolutely gorgeous! Beautifully scented!
Perfectly Lovely
Love everything from the packaging, design, and the love put into these soaps. Haven't used them yet, but the smell is amazing 😊
Loved it
I loved it. It is soft and with a dreamy scent.
Love the soaps from Sparta. They all smell great and last forever.