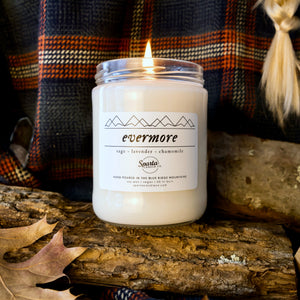 sage - lavender - chamomile
Let Evermore transport you to a serene winter landscape, where the earthy warmth of sage mingles with the soothing, aromatic notes of lavender and chamomile. This harmonious combination creates a calming and inviting atmosphere, perfect for unwinding after a long day or setting the mood for a peaceful winter morning.
soy wax  |  cotton wick | vegan


Formerly known as Library.
Certified clean fragrance
Cruelty-free

Kosher, Vegan, Non-GMO

Hand-poured in Sparta, North Carolina

Packaged in and with fully recyclable materials
Candle care recommendations:
Let your candle burn until the melt pool reaches the edges of the glass to ensure it burns evenly.
To extend candle life, trim your wick to 1/4" each time you burn.

Safety suggestions:
Only burn candles on a level, heat-resistant surface.

Do not burn candles with less than 1/4" of wax remaining.

Never leave burning candles unattended.

Keep away from children and pets.
Disclaimer: This collection is entirely fan inspired. We have no affiliation with Taylor Swift and claim no ownership of her incredible work.