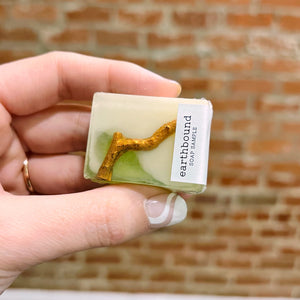 sandalwood - patchouli - coriander
Sample sized soap to try new scents or share your favorites.
0.56 oz. (16g)
Ingredients: Coconut Oil, Palm Oil, Safflower Oil, Glycerin, Aloe Vera Gel, Goat Milk, Water, Fragrance, Sodium Hydroxide, Sorbitol, Propylene Glycol, Sorbitan Oleate, Oat Protein, Titanium Dioxide, Mica.

So good!
I saved it for my husband to open and use and wow! It smells so good. The scent lingered on his hands. I would love a cologne of this. And I so loved watching Duane create the branches
Absolutely Love!!
It's so gentle on my skin, i absolutely am obsessed with the calm scent to it! 100% will recommend
One of my favorites!
It smells so good! It's a gentle smell. I look forward to washing my hands with it all the time, and the branch is super cute! it's also my friend's favorite. I just ordered the full sized bar because I love it so much. I'm so glad there are sample sizes for me to try things out.