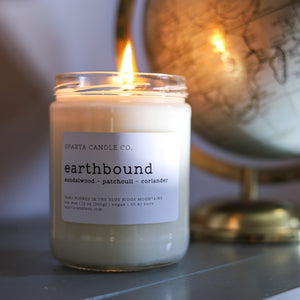 sandalwood - patchouli - coriander
Earthbound is a luxurious and calming scent that takes you on an adventure through a mystical landscape. The unique combination of sandalwood, patchouli, and coriander create a warm, woody aroma that is both grounding and inviting. Feel yourself transported to an earthy and soulful place when you light Earthbound and get ready to be embraced by its soothing powers and alluring aroma.
Soy wax
Certified clean fragrance
Cruelty-free

Kosher, Vegan, Non-GMO

Cotton wick

Hand-poured in Sparta, North Carolina

Packaged in and with fully recyclable materials
Candle care recommendations:
Let your candle burn until the melt pool reaches the edges of the glass to ensure it burns evenly.
To extend candle life, trim your wick to 1/4" each time you burn.

Safety suggestions:
Only burn candles on a level, heat-resistant surface.

Do not burn candles with less than 1/4" of wax remaining.

Never leave burning candles unattended.

Keep away from children and pets.
Smells wonderful. My husband even likes it
Amazing!
Awesome product and awesome customer service!! I placed a big order for christmas shopping and the candle was missing. I emailed customer service and they sent a candle out right away to complete my order! Thanks so much for the amazing products and service!
Loved Earthbound
We love the Earthbound scented soap!