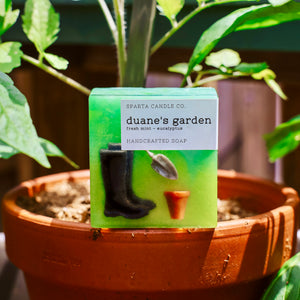 fresh mint - eucalyptus
Named after Duane's much loved garden, this invigorating soap is handcrafted with plant-based ingredients (no pun intended). Out with the dirt and in with the Duane!
4.5 oz.
Ingredients: Coconut Oil, Palm Oil, Safflower Oil, Glycerin, Aloe Vera Gel, Water, Fragrance, Sodium Hydroxide, Sorbitol, Propylene Glycol, Sorbitan Oleate, Oat Protein, Titanium Dioxide, Mica
Loved this soap! Perfect gift for my mother in law.
THE BEST SOAPS EVER!
I found your awesome company on Tik Tok and started following for the cute videos. I ordered a few soaps because I was so intrigued by the designs. When I opened the mailbox to take out the box the amazing smell was overwhelming (in a good way). Duane's Garden is one of my favorites. So light and fresh. I can't wait to try more.
Smells Amazing!
It smells sooo good and natural. My mom loves the smell of mint and this reminded her of her garden. I had gotten this for myself but she wanted it and uses it every day. Thank you for all your lovely scents and delicate ingredients. <3