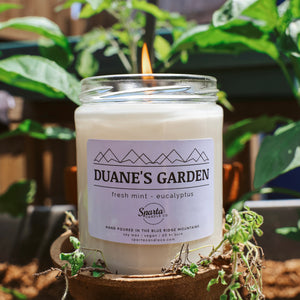 fresh mint - eucalyptus
A perfect balance of mint and eucalyptus will bring fresh, cheerful vibes to your home - no green thumb required!
Soy wax
Certified clean fragrance
Cruelty-free

Kosher, Vegan, Non-GMO

Cotton wick

Hand-poured in Sparta, North Carolina

Packaged in and with fully recyclable materials
Candle care recommendations:
Let your candle burn until the melt pool reaches the edges of the glass to ensure it burns evenly.
To extend candle life, trim your wick to 1/4" each time you burn.

Safety suggestions:
Only burn candles on a level, heat-resistant surface.

Do not burn candles with less than 1/4" of wax remaining.

Never leave burning candles unattended.

Keep away from children and pets.
Refreshing!
LOVE this candle. It's not overpowering. The right hint of mint and eucalyptus to be subtle and refreshing. Definitely recommend.
So fresh!
This scent is so clean and fresh. It smells amazingly close to mint from my garden. I'm going to stock up on this candle! I'm always lighting this one!
Minty and soft ... not sharp or too herbal
Kinda surprised to be the first to review the Duane's Garden candle, but here goes! I loooooove my DG soap and every candle I've bought from Sparta so far -- I think around 12 different ones now, maybe more -- so why not try a candle in a scent I know I like? Well, surprise, I love this one and I'll buy it again. As I mentioned in my Duane's Garden soap review, I have strong positive childhood memories associated with the smell of fresh mint. Go to your nearest garden center and find the herbs, then locate the mint. Crush one small leaf of it with your fingers and I promise you'll never forget the magic it releases. It imprints on your brain! The eucalyptus is soft here -- it whispers instead of shouting, which eucalyptus can sometimes do. The DG candle is mint-forward in the best possible way, a perfect burst of herby green freshness for summertime (or anytime).