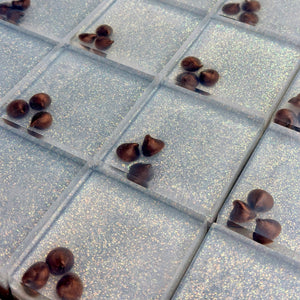 chocolate - brown sugar - vanilla
These 4.5 oz. bars fit perfectly in your hand. Hand crafted in our shop.
Ingredients: Coconut Oil, Palm Oil, Safflower Oil, Glycerin, Aloe Vera Gel, Goat Milk, Water, Fragrance, Sodium Hydroxide, Sorbitol, Propylene Glycol, Sorbitan Oleate, Oat Protein, Titanium Dioxide, Mica
Love it!
Smells amazing and doesn't leave residue on the skin!
great company!
what a cute little company - good quality products and packaged with care
Beautiful chocolate scented bar
This bar is so beautiful in person, and smells just like chocolate. This is a great option as a gift…I got this bar and Peaches n Cream for my mom, and she is the type that only ever buys vanilla scented products. She loved this bar!
Smells yummy
If you love chocolate scents youll love this. It's huge and lasts very long and my bathroom smells delicious
Love it! This is my third order from your store. My whole family uses your soaps.