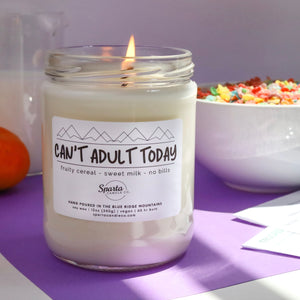 fruity cereal - sweet milk - no bills
Let's face it - adulting is hard. This candle smells just like Froot Loops and will instantly transport you to a time filled with cartoons, sleeping in, and not paying bills.
Perfect for...just about anyone.
12/10
I'm not sure how Sparta is able to capture the essence of every single scent they release but I am more than glad they can. This scent felt like a lazy Saturday, watching cartoons and eating cereal. It's amazing how it doesn't just smell like fruit but fruity cereal specifically, one of their best and I highly recommend.
BEST. CANDLE. EVER.
hands down!!! I will be ordering this so many more times after I burn it all!
Awesome!!
Love it! Smells like fruit loops
Incredible Company!
What's not to love about Sparta Candle Co.? They have such a wonderful story and variety of products to them! Can't Adult Today is no exception, it has such a nice smell to it that instantly brings me back to my childhood! Will definitely be buying more from them in the future!
My daughter loves this fragrance so I ordered these for her birthday. She is thrilled to have a ...