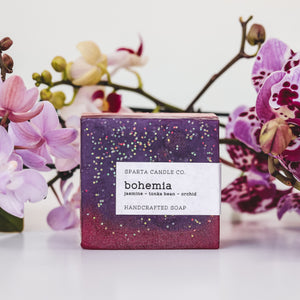 jasmine - tonka bean - orchid
These 4.5 oz. bars fit perfectly in your hand. Hand crafted in our shop.

Ingredients: Coconut Oil, Palm Oil, Safflower Oil, Glycerin, Aloe Vera Gel, Goat Milk, Water, Fragrance, Sodium Hydroxide, Sorbitol, Propylene Glycol, Sorbitan Oleate, Oat Protein, Titanium Dioxide, Mica
Bohemia Full Sized Soap
I thought I had found the best scents of Sparta Candle Co., and then I tried Bohemia. This is my absolute hands down favorite for a non-themed everyday wonderful smell. I cannot express how much I love this scent. I also have a hard time describing it so I apologize. The soap itself is so feminine and pretty and I would say the scent matches perfectly.
So amazing!
The fragrances are top notch!
Granddaughter loves it!
Granddaughter said she loves the colors, makes her skin soft and it smells so good !
So so good!
It smells wonderful and I absolutely love it
My New Favorite
I've tried so many soaps and I really love them all, but Bohemia is my current favorite, just something about it. Love it!