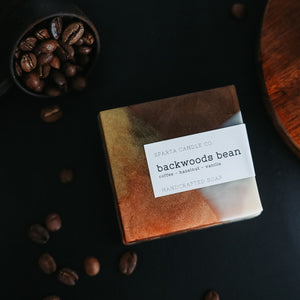 coffee - hazelnut - vanilla
Luxe 4.5 oz bars made with naturally derived ingredients & lots of love right here in our shop!
Ingredients: Coconut Oil, Palm Oil, Safflower Oil, Glycerin, Aloe Vera Gel, Goat's Milk, Water, Fragrance, Sodium Hydroxide, Sorbitol, Propylene Glycol, Sorbitan Oleate, Oat Protein, Titanium Dioxide, Flax Seeds, Mica.
Love love love!
I started using Sparta Candle Co. soaps because my boyfriend watches the tiktoks and I am so glad I made the choice! Backwoods Bean smells amazing and I'm so excited to try the other soap I bought, Flannel!
Smells beautiful!
A good mix of coffee and the hazelnut and vanilla! The smell is strong (which I love) and it's a good mix of all the different smells!
Coffee soap
One of the best soap I ever had . Smells amazing as well
bb soap
i think this is a new favorite, i like it better than the peach. harvest is my #!
Worth every Penny!!
I will definitely be buying this soap again. The smells are fragrant but not over powering. All the ingredients make my skin feel so soft and hydrated. Recommend all the soaps !!!