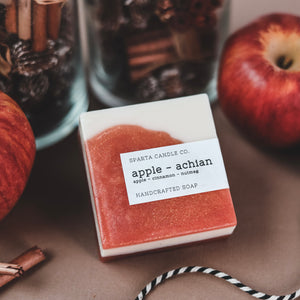 apple - cinnamon - nutmeg
This is more than just a seasonal scent; it's a narrative, an ode to the age-old traditions of Appalachians, the comfort of family recipes, and the unwavering beauty of the mountains in fall.
4.5 oz.

Ingredients: Coconut Oil, Palm Oil, Safflower Oil, Glycerin, Aloe Vera Gel, Goat Milk, Water, Fragrance, Sodium Hydroxide, Sorbitol, Propylene Glycol, Sorbitan Oleate, Oat Protein, Titanium Dioxide, Mica
Apple-achian Full Size Soap
1000000% my favorite fall and winter scent. I adore the combination of fresh apples, warm cinnamon and nutmeg. It truly is amazing and you get each note. The bar is also beautiful it is overall one of my top favorite soaps from here especially going into the cold months. Feels luxurious on skin.
Amazing
I'm new to the world of soaps outside of what you can buy at the store. This scent is truly one of the best fall scents I've ever smelled. I'm obsessed. 10/10.