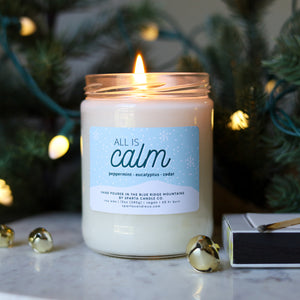 peppermint - eucalyptus - cedar
There's nothing quite like opening your front door to find a peaceful, snow-covered landscape - although this candle offers a close second. Crisp and airy, this light fragrance will have you enjoying deep, refreshing breaths, creating a space inside and out that lives up to its name. 

Also available in soap, body creme, and room spray.
Soy wax
Certified clean fragrance
Cruelty-free

Kosher, Vegan, Non-GMO

Cotton wick

Hand-poured in Sparta, North Carolina

Packaged in and with fully recyclable materials
Candle care recommendations:
Let your candle burn until the melt pool reaches the edges of the glass to ensure it burns evenly.
To extend candle life, trim your wick to 1/4" each time you burn.

Safety suggestions:
Only burn candles on a level, heat-resistant surface.

Do not burn candles with less than 1/4" of wax remaining.

Never leave burning candles unattended.

Keep away from children and pets.
All Is Calm is one if my new faves
I hope SCC never stops making this candle -- the scent is so unusual! Peppermint, eucalyptus and cedar .... somehow together they smell to me almost like a campfire burning, but with distinct, herby green notes in there, like there's fresh greenery smoldering on the fire. The cedar and eucalyptus definitely come through; the peppermint is there but very much in the background....the scent is not distinctly minty. It's really, really unusual, much in the same way Duane's Garden is, in that I've never smelled anything quite like All Is Calm. It's August but I lit it anyway, and it's giving me major fall/winter/cozy vibes. Definitely a new favorite.
Highly Recommend
Got as a gift for my daughter's birthday. Great company. Wonderful product. Excellent customer service. Highly Recommend.
Favorite smell
I got all the things, candles, soap, wax melts and spray. Just in case the smell isn't the same next season. Beautiful peppermint smell. Absolutely love it, it is very calming.
LOVE IT
Amazing scent and feeling when burning this candle. Love it!