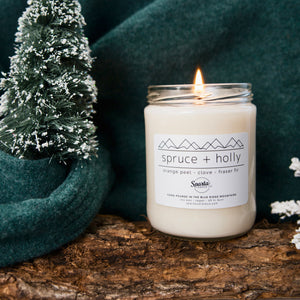 orange peel - clove - fraser fir
This bright scent will fill your home with festive notes of citrus, holiday spices, and the essence of the evergreens. With this candle in the room, no one will ever know if your tree is real or not (and we'll never tell!) 

Also available in soap, body creme, and room spray.
Soy wax
Cruelty-free

Kosher, Vegan, Non-GMO

Cotton wick

Hand-poured in Sparta, North Carolina

Packaged in and with fully recyclable materials
Candle care recommendations:
Let your candle burn until the melt pool reaches the edges of the glass to ensure it burns evenly.
To extend candle life, trim your wick to 1/4" each time you burn.

Safety suggestions:
Only burn candles on a level, heat-resistant surface.

Do not burn candles with less than 1/4" of wax remaining.

Never leave burning candles unattended.

Keep away from children and pets.
Beautiful!
I love the smell of this! I am looking forward to gifting this to my mother for the Holidays!
Christmas in a Jar
I was gifted a Spruce and Holly candle a couple of years ago. The last of it was burned last Holiday season. I bought myself a new one for this year. Now that I am older and can not wrangle a live tree into a tree stand I use artificial trees. This candle makes it smell like. Heist as in my house.
Spruce + Holly is for clove lovers!
Clove is front and center here, with the fresh evergreen of fraser fir mixed in alongside the clove and a light layer of spicy-fruity orange peel wrapped around it all. It gives a woodsy, autumnal, perfectly spicy vibe that's just right for fall or winter. Lit this up in August and now I'm dreaming of flannels, boots and bonfires! I absolutely will buy a second and maybe even a third ... maybe more more for gifts this fall. This is the kind of thing I want to give to everyone I know.
Love it! The fragrance permeates my home. Many "clean/non toxic" candles smell great in the jar but don't produce much fragrance when lit. Yours did! Thank you
Iconic, fantastic.
I'm obsessed with everything I got. And to top it all off, I got a little baggie of soap cuttings from a Cutting up with Duane TikTok!! I was so excited. Thank you all so much for your beautiful products. Will be buying from you again!